Meta's Privacy Control Upgrade: A Step Forward for Personal Information Management in AI Training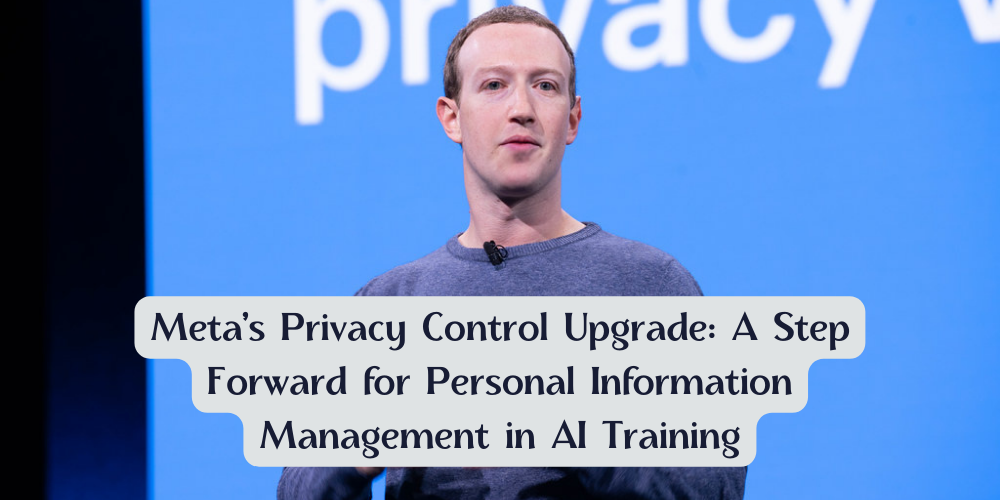 Technology is moving at an unbelievable speed with dramatic advancements in Artificial Intelligence. Meta, the parent company of Facebook, takes a step forward by introducing new controls on how users' personal data gets used in generative AI model training. This crucial update is expected to bring a significant change in how we perceive data privacy in AI-based models and applications.
These controls will allow users to exclude their personal data from AI model training. This action is made possible through a form available at the Privacy Center of Meta. From this point onwards, users can easily delete their personal data sourced from third parties for generative AI model training. Thus providing the everyday user a higher degree of control over their personal data use.
There's also a new addition to the Privacy Centre – an overview of generative AI. This section aims to educate users on various aspects of generative AI model training, the data utilized, and how one's data from meta platforms can contribute to this process. They explained how a blend of publicly available, licensed data along with data from Meta's products and services are used for training these AI models.
Furthermore, Meta also aims to alert and equip users about the use of their data. Their responsibility towards privacy protection is regarded with utmost importance. Having teams dedicated to the purpose, robust internal Privacy Review processes are put in place to ensure responsible use of data for their products, including generative AI. The aim is to identify potential privacy risks and develop ways to mitigate those risks to privacy.
In conclusion, Meta's endeavors to enhance its users' awareness and give them better control over their data is a promising step. Especially in light of recently enforced EU DSA rules, demanding more data control options as a standard across online platforms. Although the usage of publicly available data in creating new content remains a legal battlefield, being able to remove their personal information will be a major focus henceforth. Indeed, the future of data privacy in AI looks hopeful with progressions like these from tech giants like Meta.